Pole Pedal Paddle Race Map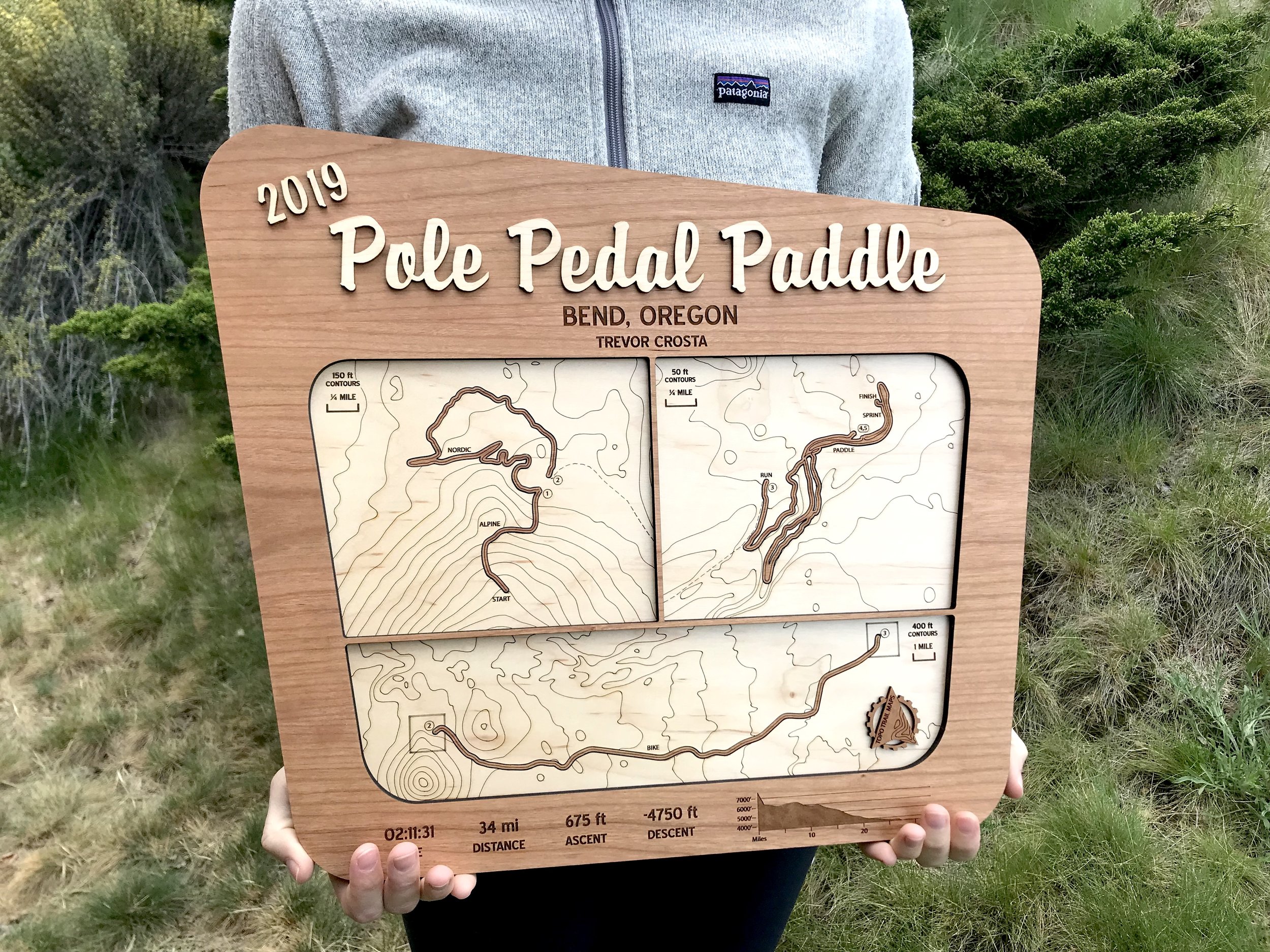 Pole Pedal Paddle Race Map
Pole Pedal Paddle Custom Race Map!
Every map is Personalized with the racer's name and finishing time. You can also upgrade to the Team version which includes the Team Name along with each racer's name next to their respective leg on the map. Stat's and profile reflect the entire race course.
NOTE: Our default will be the 2019 PPP. If you'd like to get a map for a previous race just let us know what year.
Click "Add to Cart" and enter your map details on the form that pops up. We confirm everything before getting started and help answer any questions. FREE SHIPPING!
MAP SIZE: Choose from Original, Large, & Mega Map sizes.
MAP STYLES: Choose your trail type.
-INDIVIDUAL maps feature the racer's name & finishing time in the stats area at the bottom of the map.
-TEAM maps include the team name at the top along with each racers name placed by the respective leg on the map and finishing time in the stats.
WOOD COLORS: You can choose a Cherry frame with Maple map or reverse it and have a Maple frame with Cherry map. Both color combos looks great. (Original Size shown…)
One of the coolest multi event races in the country, our New Pole Pedal Paddle Map highlights each leg of the race. To maximize the trail detail we've broken up the map into 3 zones that focus on the various stages of the race. Starting up at Mt. Bachelor we see the Alpine and Nordic Legs. Next the Bike leg zooms out to capture the entire distance to town. We wrap up with the Run, Paddle, and Sprint leg to the finish line. The exchanges between the various legs are numbered 1-5.
Tips for ordering a Map…
All our Maps are designed and built completely from scratch to the highest standards. We'll confirm all your info before we get to work and in the unlikely event that we can't make your map you will receive 100% refund.
For custom recorded trails you will need to email us the .GPX or .KML file… after you place your order. Pictures of the trail won't work, we need an actual GPS file. Most websites or apps like Strava will let you download this file and we can help you figure out how to find it. Please send it to info@topotrailmaps.com
NOTE FOR LONGER TRAILS: While we can make an epic 500 mile trail map, just remember longer trails will have less topographic detail. Trails that cover less then 50 miles work best…
Shipping time for 2-D Maps will be around 3 weeks…
For those extra special trails!